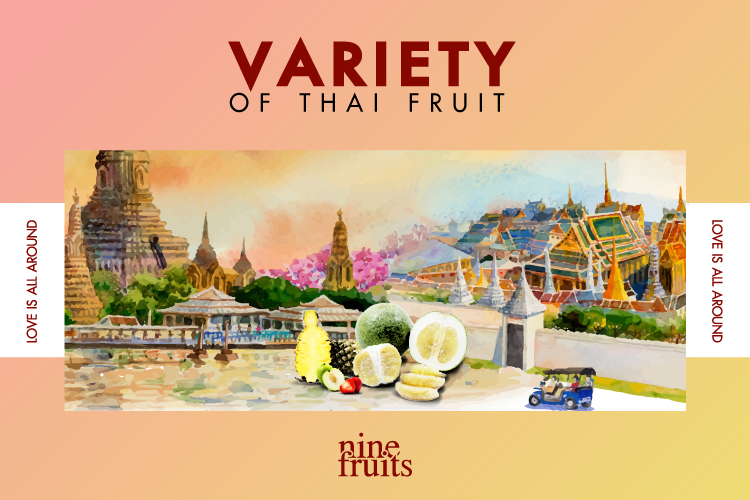 Thailand is in the tropical area which a perfect place for agriculture. Every region of Thailand has its  fruits that represented their hometown.
The North region has the coldest climate of Thailand. Way back more than 40 years ago when the Royal Project tried to growing temperate fruits and vegetables. Strawberry 80 is one of the fruits that success from this project and became a very popular fruit from Northern Thailand nowadays.
East Region is the importance the fruits agriculture land of Thailand. There are a lot of tasty fruits such as mangosteen rambutan durian even the other local fruit is giving an impressive product in this area like marian plum ( ma-yong-chid, ma-prang).
North-East Region or E-San is a hot and dry area but with the new technology of agriculture, nowadays we can see so many provinces of E-San had been growing exported fruits as though watermelon, cantaloupe, milk jujube, etc.
Central Region of Thailand has a lot of tasty fruits too, Mango, Coconut, Jackfruit. One of the fruits from this region is pomelo which so many varieties. Nakon Chaisri district of the central region has a proud motto of their hometown "Sweet Pomelo, White Rice and Beautiful Girl".
South Region is also the area for tropical fruits. When you visit Phuket  which a famous scenery town, you should taste Phuket pineapple, the famed fruit which a unique sweet, crisp and senses.
Thai Fruits are different from their variety and origins which represented the diversity of Thailand. Having Thai Fruits from every region will give you more than taste but enjoy their story too.